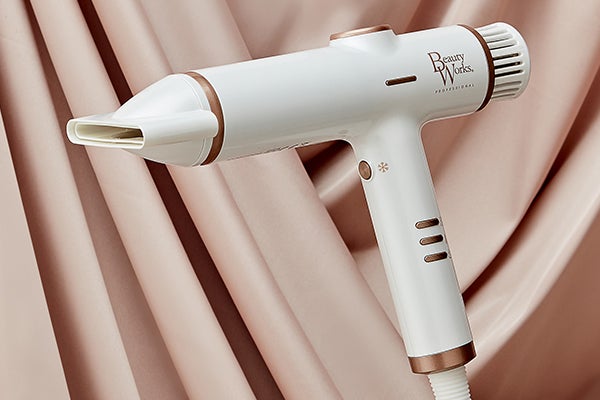 Beauty Works Aeris®
Meet the future of drying. Introducing Beauty Works Aeris® – Lightweight digital hairdryer. Featuring intelligent technology; combining power, speed and precise temperature to deliver smooth, salon professional results.

A few key AERIS Features:
- Rotating Nozzles – Control the direction of the airflow with a 360 rotation to create any style.
- High Air Volume Performance – Dry your hair 6 times quicker compared to a normal hair dryer. The aviation grade brushless digital motor provides high-speed drying, with ultra-precision heat.
- Adjustable Temperate Control – Choose the temperate that suits your hair type & texture. A bonus feature is the cool shot that you can use to set your hair style in place.
- Memory Feature – Remembering your preferred heat and speed setting for even faster styling.
Shop Now
Get The Look – Molly-Mae Silky Straight
Beauty Works Hair Extensions – Explained
Hair extensions have become so popular over the years, and we are not surprised. Clip ins can be used for many reasons, whether it's to add length, volume or colour, Beauty Works have the method for you!
Having been in the industry for over 10 years, Beauty Works know quality is everything when it comes to hair extensions, using the highest grade of real human hair, the hair keeps its natural appearance, remaining tangle-free and healthy.
SHOP NOW
About Beauty Works
Beauty Works provide luxury hair enhancement's that inspire confidence and empower you to look and feel your very best. Including easy clip-in solutions and exclusive collaborations. Our hair extensions and stylers have earned reignition amongst the beauty press and up and down the red carpet.
Our hair is getting all the love because we've built Beauty Works by bringing you the very latest hair products in the industry, working with leaders in our sector that deliver the latest hair trends and were here for it! But don't just take our word for it, over the last ten years we've been featured in the national press including Vogue, Cosmopolitan, Grazia Magazine, Glamour and on ITV This Morning, and USA Chanel E! News. Our hair extensions and hair products have the seal of approval from the beauty blogger community.
Just check our feed for the very latest. Crowned at The Beauty Awards for the "Best new styling tools", Marie Claire Hair Awards, "Best hair extensions" and the Hair Awards "Best European and Instant Hair Extensions".