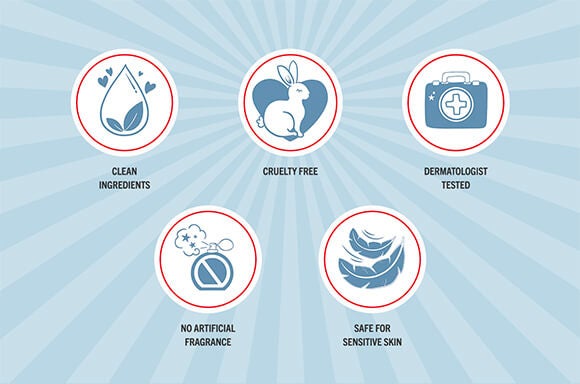 OUR COMMITMENT
First Aid Beauty is on a rescue mission to solve your skincare challenges and deliver confidence-boosting results without irritation. We formulate all our products with love and your safety in mind, adhering to five core standards.
First Aid Beauty do not conduct any testing of ingredients or finished products on animals and only work with business partners who comply with their policy. PETA has verified that neither First Aid Beauty nor their ingredient suppliers or contract manufacturers conduct, commission or pay for any tests on animals for ingredients, formulations or finished products.
First Aid Beauty products won't send your skin into a tailspin - formulated with nurturing, non-toxic ingredients at levels that respect the structure and composition of skin, FAB skincare is designed to deliver results without irritation, to all skin types, even sensitive. Your skin's health is our top priority. Allergy tests and/or safety-in-use tests are overseen by independent dermatologists to validate each formula's safety and to ensure that it will deliver clinically-proven results without upsetting the skin or causing any harmful side effects.
First Aid Beauty don't use artificial fragrance in their formulas. In select products, they infuse naturally-derived scents that pass stringent clean and safety testing standards.