The product of Christophe Robin was founded by Christophe Robin, a well-known French hair colourist, which was named after him. This series of products specialises in deeply damaged and damaged hair. Recently, it has been sought after by various media. We can't wait to bring it back to lookfantastic.com.hk and try its magic.
Christophe Robin Cleansing Mask with Lemon (250ml)
Like many people, it is difficult to look after and maintain coloured hair. For instance, the colour often fades after a few weeks; it will not be as bright, vibrant and shiny. However, after using Christophe Robin Cleansing Cream, I have noticed a visible difference! My hair is very soft and bright.
Christophe Robin Antioxidant Cleansing Milk With 4 Oils And Blueberry
I've been looking for a shampoo that can protect my hair colour without being too irritating, so I am very curious and interested in this one. Its texture is light and gentle. After using this product for the first time, I immediately felt that the hair became more light-weight. It was like the refreshing lightness after shampooing and the hair colour appeared lighter. Although its only a shampooing product, the hair feels like it's been conditioned; soft and easy to comb after use. It is definitely a great gift for people who often has tangled hair after shampooing.
Christophe Robin Shade Variation Care in Baby Blond
Christophe Robin Shade Variation Care is designed to improve the tone of the hair, and is free of preservatives, oxidants, ampoules, etc. I am very obsessed with keeping my hair ashy, so I am very eager to try this product. Christophe recommends applying a mask on wet hair for 5 minutes to an hour, depending on the intensity of the colour tone that everyone wants to achieve. I decided to try the entire treatment and leave the purple hair mask on my hair for a full hour. After rinsing and drying my hair, my hair has become the ideal grey colour I have always wanted to get! I am very satisfied and happy with this product.
After use
I like the unique formula and rich texture of Christophe Robin's products. They help improve the tone, condition, and texture of my hair. If you're like me, it's a good investment to keep your hair fresh. It will give you the effect of luxury and confidence. It is definitely worth a try.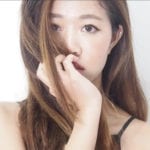 Hello I am Avari. You can call me Siu A. I am from Hong Kong and I make videos about Beauty, Fashion, Shopping, Travel, Lifestyle and Advice.