Chinese New Year is just round the corner now. During such an important festival, I am sure that we all want to prepare lovely gifts for our family and friends. lookfantastic is proud to present this Chinese New Year Limited Edition Beauty Box. Specially designed for this occasion, it makes a perfect gift for family gatherings.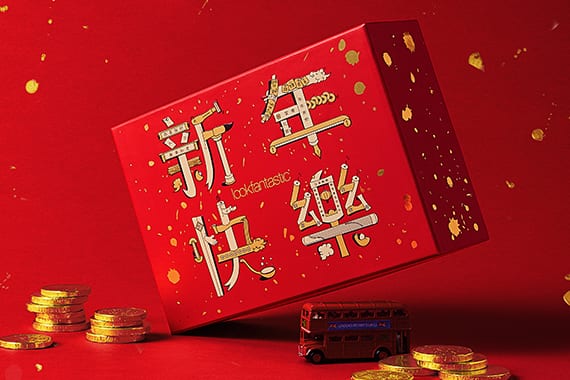 This lovely limited edition beauty box is filled with 8 products from 7 brands. The total worth of the box is over £230 (~HK$2,200) but you can buy this box at only HK$780 at lookfantastic. Oh wait.. does that mean it's 65% off? Yes, it does. It is such a good value for money!
What's inside?
Kerastase Reflection Bain Chromatique Shampoo (80ml)
I am sure we have all been through this if you have dyed your hair before where the colour fades in like 1 week. Don't worry as this shampoo can protect and maintain your hair colour whilst gently cleanses your hair making the colour look vibrant, shiny and healthy. This shampoo is ideal for people with coloured hair. The size of it makes it perfect for travelling or stay-overs.
Grow Gorgeous Back into Roots 10-minute Stimulating Scalp Mask (240ml)
Grow Gorgeous is an amazing hair care brand. I have to say that the smell of this brand is super lovely. I have been using the hair growth serum from this brand and the results are incredible. Therefore, I was so exited to try out this product. This is a scalp stimulating mask, it contains volume boosting vitamins, hyaluronic acid and caffeine, it helps improve circulation and add volume to your hair. Only 10 minutes is needed to help you achieve that bouncy and big hair. Ideal for people who wish to add extra volume to the hair.
Omorovicza Oxygen Booster (15ml)
Omorovicza Oxygen Booster is a water based gel. It delivers the benefits of oxygen to the skin, working to plump, firm and smooth the skin. The booster contains hyaluronic acid that is known for effectively holding up moisture, leaving your skin feeling refreshed, brighter, hydrated and young. It is ideal for people who wish to improve their skin appearance to look less tired and dull.
Illamasqua Powder Blusher – Katie (4g)
Illamasqua is a British cosmetics brand that is known for it's quality. The Powder Blusher in Katie is a highly pigmented and beautiful blush. The light pink colour makes it the perfect shade for everyday makeup. The colour is very natural that works to radiate and illuminate the complexion. You can apply the blush lightly onto your cheeks for a subtle, natural look, or apply the blusher wet for a dramatic, intense finish.
OSKIA Renaissance Gel (35ml)
The Renaissance Gel from OSKIA is incredibly amazing. It is a gel based cleanser can effectively restore radiance whilst gently cleanse your face. It is a highly recommended cleanser, not only does it remove makeup, deep cleanses your pores and removes dead skin cells, it also helps with collagen production and skin elasticity.
Madara SOS Hydration Mask (60ml)
Madara SOS Hydration Mask delivers immediate hydration and comfort to your skin. It also helps protect your skin and prevent dehydration. It is an absolute life saver for people who have dry skin. You will feel that the tightness caused by dryness is significantly reduced after use. It is recommended to use twice a week, but you can use it whenever your skin feels dehydrated and stressed.
Erno Laszlo Phelityl Night Cream (15ml)
This cream is also known as Tofu Cream, which you may be able to guess that the texture is pretty similar to Tofu. This Phelityl Night Cream is one of the top selling products from the Erno Laszlo because it actually delivers brilliant results that help plump, smooth and repair your skin without leaving your skin greasy.
Omorovicza Balancing Moisturiser (30ml)
The last product in the box is the Omorovicza Balancing Moisturiser. It is a very lightweight moisturiser that is suitable for every day use, it absorbs quickly into skin to help balance and regulate combination or oily skin. The smell of this moisturiser is beautiful that makes me feel like I am in a SPA.